Established in 1993, New Smyrna Athletic Club is bigger and better than ever!.
New Smyrna Athletic Club is located in the heart of beautiful New Smyrna Beach, on Canal Street. As a full-service fitness gym and health and wellness center, New Smyrna Athletic Club has over 10,000 square feet of dedicated gym workout space.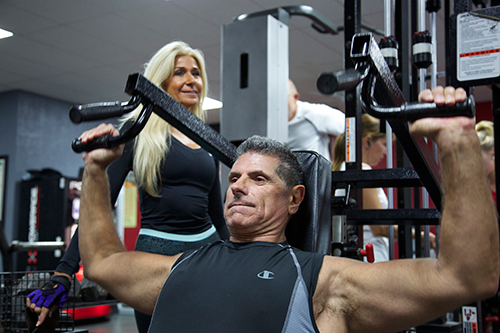 The gym introduced a 24-hour keycard access to the facility in 2010, providing members access to exercise at their convenience, no matter what kind of schedule they may keep. Since its introduction, the gym has experienced their largest growth since first opening.
Along with our newly renovated cardio and circuit areas, NSAC also features the area's only dedicated free weight room, with a huge selection of dumbbells and plates, as well as flat, incline, and decline benches. A full line of Body Master strength training equipment is also available to meet your strength training goals.
NSAC offers a variety of group fitness classes to accommodate all levels of fitness enthusiasts. From Yoga, Zumba, Strength and Training, and Chair Stretch, we have the class to suit your needs. We also participate in the Florida Health Care Preferred Fitness and have a variety of Silver Sneaker classes. All of these offerings keep gym members motivated and healthy!
Over 10,000 square feet
24-hour keycard access
Dedicated free weight room
Renovated cardio and circuit areas
Variety of group fitness classes
Talented staff of personal trainers
All new updated restrooms and lockers
One of the largest providers for health and fitness in the Volusia County area
New Smyrna Athletic Club is one of the largest providers for health and fitness in the Volusia County area. We recognize Florida Health Care's Preferred Fitness Program, as well as Healthway's "Silver Sneakers," which enables us to accommodate more than 1,000 Silver Sneakers members in a 5-mile radius. These programs allow our members open use of the gym to exercise and stay in shape with trainers to guide them on their journey to health. We also offer special classes for our Silver Sneaker members that help with stability and strengthening.
NSAC provides its members the ability to take their exercise level to new heights with the opportunity to work with the most talented staff of personal trainers in the state. If you prefer bootcamp style, full body workouts, or just a reboot in establishing a great overall routine, we have the trainer for you! If you need motivation to reach your goals, your at the right place.